Welcome to Thousand Islands Veterinary Services
Your Veterinarian in Gananoque, ON
Pet Emergency? Call us right away at 613-382-2900 during our office hours.
Outside of our office hours, call Kingston Regional Pet Hospital at 613-634-5370.
Coronavirus/COVID-19:
Friends,
We are very excited to announce that we are now welcoming one masked person into the building per annual or medical appointment. Please remember that our building space is very small and given the expansion of the pet population over COVID, we are now seeing >50% more patients than we were two years ago. The pandemic offered us an opportunity to expand our building size by using our parking lot. We are very excited to have you back inside with us and appreciate your patience as we adjust to our increased volume in this very small space!
From the start of the pandemic, our goal has been to remain open and we have proudly achieved that. Given that there is still risk of contracting COVID and it spreading through our team (which could result in our clinic being closed, leaving your pet without care), we require anyone coming inside to wear a mask, including us. We are more than happy to continue to provide service curbside if you would rather not wear a mask or if you would rather stay outside.
Given our small space, all medication/food pickups and booster vaccine appointments will remain curbside.
Sincerely,
Dr. Scott Stevenson and the
Thousand Islands Veterinary Services Team


We also understand that the experience of coming to the vet clinic can make some pets nervous. We are striving to change that! We want all of our clients and their pets to feel as at ease as possible when they come in for an exam. We employ many different techniques to further this goal and we can give you tips and ideas of things that you can do at home to make your visit to the vet clinic as stress free as possible for you and your pets. We recently added on a new exam room that is gearing mainly for our feline patients! This room is on the other side of our office so that we can try to separate the cats from the dogs and try to lower the kitty's stress levels that way. This new exam room also features, a diffuser that emits 'happy cat' pheromones to help to lower anxiety as well as a tv that has an aquarium playing as well as fun wall shelves for the kitties to climb on while the vet and his/her owner talk.
Thousand Islands Veterinary Services is a full service animal hospital and welcomes both "in hours" emergency treatment cases as well as pet patients in need of routine medical, surgical, and dental care. Dr. Stevenson, Dr. Janssen and staff strive to uphold the clinic values of providing the best possible medical care for our patients as well as making sure that pet owners are fully educated and engaged in all aspects of their beloved pet's care. Providing exceptional customer service and client education are core values that all members of the TIVS team wish to embody.
Dr. Stevenson is well known as an industry leader in his knowledge of Lyme disease and the ticks that are a problem facing pets in the Kingston, Gananoque and Brockville areas. He has been asked to speak at the biggest veterinary conferences in North America and has done a lot of traveling doing so. He also does webinars for other Veterinarians quite often about the threat of ticks, Lyme Disease and other diseases that ticks can carry, as well as treatment of these diseases and prevention of ticks.
Thousand Islands Veterinary Services offers a number of resources that enable you to learn about how to provide the best care to your pets. Please feel free to browse this site, particularly the informational articles. The best veterinary care focuses on disease prevention, so becoming knowledgeable about preventative health care is essential to the ongoing success of your family pets' health. If you have any questions, call 613-382-2900 or email and they will promptly get back to you. Thousand Islands Veterinary Services is very easy to get to whether you live in Gananoque, around the block in nearby Kingston or Brockville or any of the communities between -- you can find directions on the Contact Us page!
Come to Gananoque, visit Thousand Islands Veterinary Services, take a tour of our hospital, meet our warm and knowledgeable staff, and then book an appointment!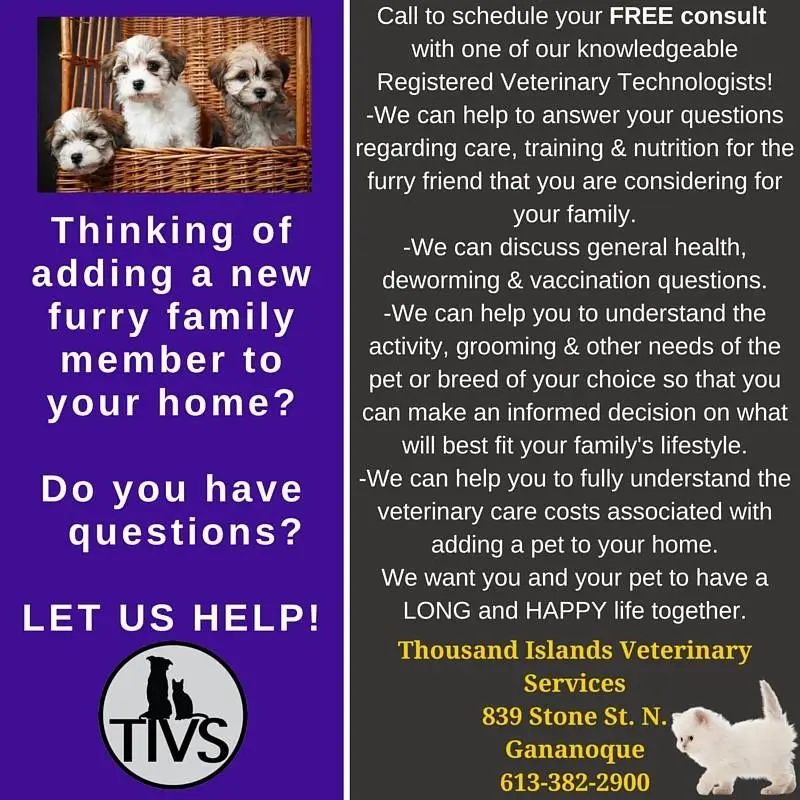 At Thousand Islands Veterinary Services, we treat your pets like the valued family members they are.
Gananoque Veterinarian | Thousand Islands Veterinary Services | 613-382-2900
839 Stone St. N
Gananoque, ON K7G 1Z7