Welcome to Thousand Islands Veterinary Services
Your Veterinarian in Gananoque, ON
Pet Emergency? Call us right away at 613-382-2900 during our office hours.
Outside of our office hours, call Kingston Regional Pet Hospital at 613-634-5370.

We understand that the experience of coming to the vet clinic can make some pets nervous. We are striving to change that! We want all of our clients and their pets to feel as at ease as possible when they come in for an exam. We employ many different techniques to further this goal and we can give you tips and ideas of things that you can do at home to make your visit to the vet clinic as stress free as possible for you and your pets.
Thousand Islands Veterinary Services is a full service animal hospital and welcomes both "in hours" emergency treatment cases as well as pet patients in need of routine medical, surgical, and dental care. Dr. Stevenson, Dr. Janssen and staff strive to uphold the clinic values of providing the best possible medical care for our patients as well as making sure that pet owners are fully educated and engaged in all aspects of their beloved pet's care. Providing exceptional customer service and client education are core values that all members of the TIVS team wish to embody.
Dr. Stevenson is well known as an industry leader in his knowledge of Lyme disease and the ticks that are a problem facing pets in the Kingston, Gananoque and Brockville areas. He has been asked to speak at the biggest veterinary conferences in North America and has done a lot of traveling doing so. He also does webinars for other Veterinarians quite often about the threat of ticks, Lyme Disease and other diseases that ticks can carry, as well as treatment of these diseases and prevention of ticks.
Thousand Islands Veterinary Services offers a number of resources that enable you to learn about how to provide the best care to your pets. Please feel free to browse this site, particularly the informational articles. The best veterinary care focuses on disease prevention, so becoming knowledgeable about preventative health care is essential to the ongoing success of your family pets' health. If you have any questions, call 613-382-2900 or email and they will promptly get back to you. Thousand Islands Veterinary Services is very easy to get to whether you live in Gananoque, around the block in nearby Kingston or Brockville or any of the communities between -- you can find directions on the Contact Us page!
Come to Gananoque, visit Thousand Islands Veterinary Services, take a tour of our hospital, meet our warm and knowledgeable staff, and then book an appointment!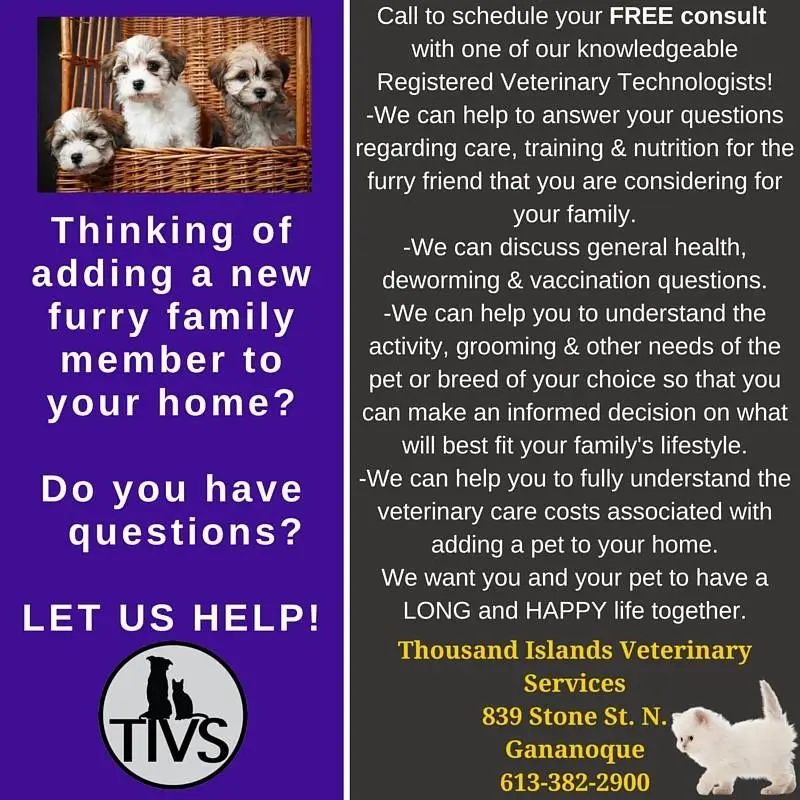 At Thousand Islands Veterinary Services, we treat your pets like the valued family members they are.
Gananoque Veterinarian | Thousand Islands Veterinary Services | 613-382-2900
839 Stone St. N
Gananoque, ON K7G 1Z7